Fitting is certainly a process! I've needed a new coat for awhile now and I've collected several coating fabrics to that end. But, I've procrastinated because of the amount of work involved and fitting challenges that I haven't managed to fix. I've bought new fitting books, taken fitting clinics and drafted a moulage and slopers all in the hopes that I'd finally learn how to fit myself. I've got pants that fit, knits are fine but when it comes jackets and coats there are issues. I can wear the pieces but they just aren't as good as they could be.
I took Kenneth King's coat class on Craftsy and thought I'd make that jacket. Except it really didn't excite me. Net a Porter is my favorite snoop shopping site. I saw this simple Fendi coat. It was perfect. Of course it's $2600 and doesn't come in my size. The back is simple and the front has an S shaped darted seam running from neck to hip. This is not a flattering line for me so I kept the shoulder princess of the Burda style 113 coat from 12/13.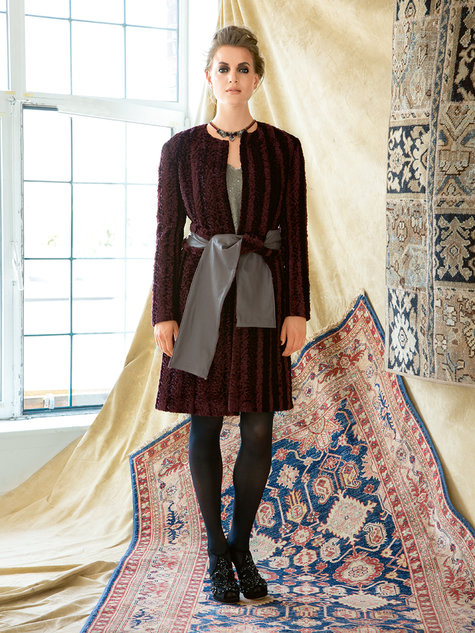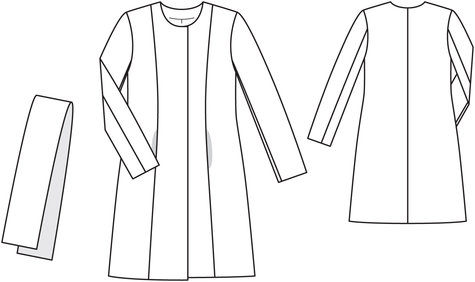 Burda 113 12/13
The fabric is this nubby burgundy and black wool from Emmaonesock. It was a yard end from Philip Lim if I remember correctly. I'm using a silk charmeuse to line the coat and interlining with cotton flannel. With a warm fabric it makes a coat warm enough for our Long Island weather. At least most of the time. Bunny from La Sewista made her back stay on the coat she's sewing, out of cotton flannel. I always make a back stay but I never thought to make it out of flannel. It will add another layer just where the wind hits.
Back to fitting. I made my usual fitting adjustments to the pattern. I was getting the same drag lines I always get with jackets and coats. My neckline is too high in back with a fold at the base of my neck. I still have trouble reading drag lines; mine runs from the upper back to my hip. I bought Lynda Maynard's fitting class on Craftsy. Everything I did didn't solve all the issues. I have a high rounded back that is part of the problem. but the neck wrinkle isn't solved by the fix for a rounded back. My husband took some pictures that I posted on Craftsy.
am anxious to see what Lynda says about my fit. I'd like to get started while it's still winter.
I did figure out that I needed more height in the sleeve cap and that the armscye seam needs to be deeper in the lower back and front.
My sleeves fits better if I shorten it above the elbow. Much more comfortable. As you can see, I still have drag lines. Grr.
I
While I'm waiting I'm going to cut out Sewing Workshop's Olive top in black wool jersey from Manhattan Fabrics. My favorite Riri zipper is waiting for the back. Most of their patterns are not my taste or style. Like that blouse I posted recently, they are mostly just too shapeless and big for me. But I liked the lines of the Olive. The photos in the their gallery showed a flattering fit on all of the women shown; perfect.
I am definitely spoiled by the ease of fitting knits. The stretch just glosses over some of the more glaring fitting issues that I have. Also, I think that I am a little more forgiving of knit fit. But I do know that I need a break from fitting this coat!
An addendum, I think that I am going to make a muslin of the coat with it's alterations from KK's class. I'm not sure about the round neck on the Burda.